Winter Track & Field 2020 – 2021 Update!!!

(Wednesday 1/27/21 - 8:22AM)
Reminder. All sprinters are meeting at 530pm today for practice Wed Jan 27th. There is no 730pm practice. See you there. Dress warm.
Thanks Coach Wong
Athletes please dress properly for the meet on Saturday Jan. 23rd. It is going to be our coldest one this far. Layers will be needed.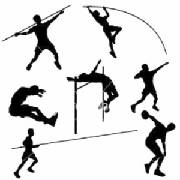 Lewis Jan. 23rd 2021 - Meet Program
Good Afternoon. Entries for the meet this weekend at John Lewis HS is now post.

Let me know if you have changes, if you cannot make it or if you are missing from the meet or want to change events by 5:30PM today - Jan. 21st.

Thanks Coach Wong
PICTURE DAY IS FRIDAY, JAN. 22ND AT 2:45PM. Bring your uniform to take the pictures.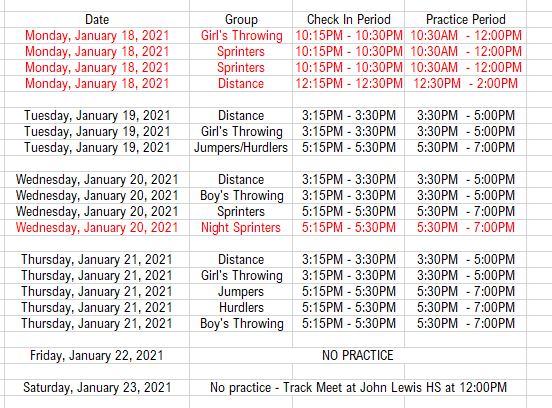 Good Day Team. Hope this message reaches everyone well. Practice have a few changes this week. A copy of the practice schedule is posted in Schoology, on the team website and twitter.
Track meet – Sat. Jan. 23rd @ John Lewis HS

Location: 6540 Franconia Rd, Springfield, VA 22150

Departure: 10:30AM – Kiss and ride

Buses: 3 Buses – max of 22 kids per bus

Meet Start Time: 12:00PM

Estimated End Time: 2:30PM – 3:00PM

Schedule of Events is on the Winter 20 – 21 Page – www.gcmtrackandfield.com

All athletes will be pre-screened before getting on the bus.

Same procedures as we do at practices

Masked on, 32 ounces of water

Parents – it is best you wait until the student athlete is tested before leaving for home.

If any athlete is driving to meet – they must get tested before departing for meet. They cannot enter the meet without the team – so you will have to wait for the team.

I again plan on recording all the races and will have them posted on you tube and provide link to the team. Only team members will have access to the link.

The weather is calling for mid 40s on Saturday.

So everyone need to dress with long tights (top and bottom)

Bring your coat, hats, gloves to wear when you're not competing

You can wear your hat and gloves to compete in if you choose

Here is a line for future meets and practices

I would still recommend athletes where tights (leggings and tops under their uniform) – the weather can be unpredictable still.

Entries for the meet will be posted in the News and Updates page on the team website.

Everyone will get the opportunity to compete even if it is in a relay. Please make sure you sign up for the meet. Update the form if necessary if your availability had changed.

The Coaches selected the events

Everyone who submitted for the meet is entered

If, you cannot make the meet – please let us know so we can replace you

If, you have any questions – please let me know

Please please – athletes use the restroom before you get to the meet

It might seem like a little thing, but they are limiting how many people can access the bathroom at a time.

At a regular track meet – this is always a big issue and will be bigger now

Please come to meet dress to compete – bring your coat and sweats but don't come needing to change and put on your uniform.

You cannot get into meet without the uniform either way.

We need everyone to sign up for practice this week. Here is the link (you maybe have to open in a new tab or browser) - https://www.signupgenius.com/go/20f0a4dabae23a57-2020

Any questions – please ask me – Coach Wong – call or text me 301-793-2900 or email me ccwong@fcps.edu
The streaming feed for track meet at Marshall will be on the GCM Track YouTube channel at the link below.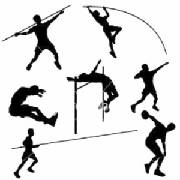 Support the Boosters & Marshall Athletics - Every Tuesdays in January. Great opportunity to help local restaurants, while supporting Marshall Athletics. Please note (Marshall athletics) needs to be mentioned and Chipotle and Noodles have promo codes. We need your help and support.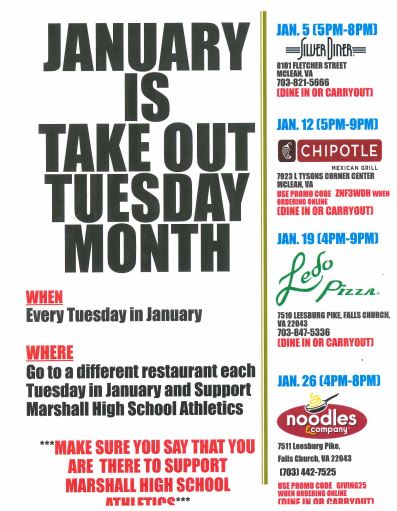 Winter Track & Field 2020 – 2021 Update!!!



Good Evening Everyone.
Practice sign up is in Schoology.
Few Notes.
1. If, there are more athletes and the sign up is full - please email me.
2. We will have time trials for Sprinters to split up the practices on Wednesday, Dec. 16th - bring your spikes.
3. Practice times might be adjusted after week one.
4. Please email me with any questions.
Please see the link in the Schoology page - https://lms.fcps.edu/group/2923856607
Access Code for kids to join the Schoology Group
73CW-HB83-DSDCV
Thanks Coach Wong
Ph: 301-793-2900
Email: ccwong@fcps.edu
Website - www.gcmtrackandfield.com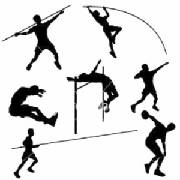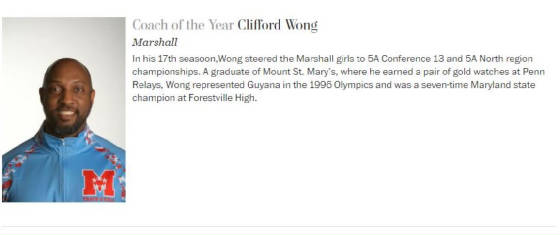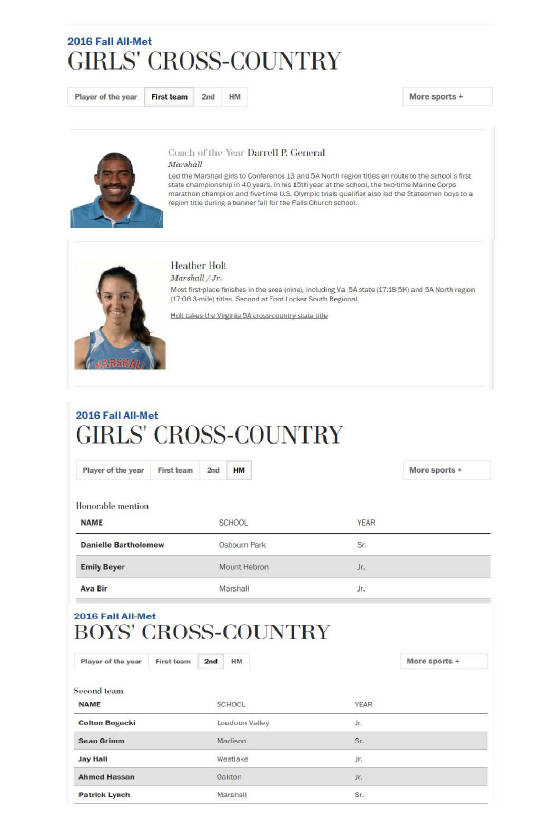 To view results and pictures and news from the last seasons please go to our Archives Page
LEAVE A LEGACY - my favorite part of video - get the message - Leave a legacy - it cannot be changed. Time can go by - others might come whose better than you but if you make history and leave it on the track - nothing will or can ever change the record for 2015 - 2016 Season.