Last Site Update!!!!

Sunday, Jan. 16th - 6:28PM
Updated Meet Schedule - Sign Up

The next 3 meets are updates to the meet schedule.

1. Two polar bear meets added (1/22 @ Wakefield & 1/29 at Home)

2. The District championship was moved to Feb. 3rd and 5th

3. Senior Day will be at the 29th meet.

Please use the links below to sign up for the meets.

Next 3 Meets Availability - 1/22, 1/29, Dist Champs
Senior Night Celebration - Jan.29th - Info Sheet
Jan. 29th - Parent Volunteering Sign Up

Good night GCM Track and field Family. Happy New Year to all of you. I know it has been a wild ending to 2021 and then the weather came roaring into 2022. So, we are looking forward to seeing everyone this week.

Congratulations to Haley Spoden, Sophia Welch, Zoe Heffernan, Sean Sanders and Simon Barnes who took the opportunity and competed at the East Coast Elite Invitational on the 8th. Spoden won the 1600m and qualified for the State championship, she also finished 4th in the 1000m. Sanders finished 3rd in the 3200m run and qualified for the regional championship.

If are to finish this season, it will take resilience and persistence, who is ready to go with me?

Weather/Practice
*We will have regular practices this week if school is closed, there are no practices.
*The weather is going to be challenging, but we will keep finding ways to be creative practices.
*It is important that athletes check Schoology, Twitter and websites for updates during the day and in the mornings and evenings for updates.
*Please, please dress for practice that can be indoors or outdoors. Bring clothing for both, bring shoes for both.
*This week the practice schedule will remain the same for everyone
o Except for a few additional practices for all sprints, hurdlers, jumpers
o Friday at 3:15PM and Saturday at 11:00AM

Track Meets
*With the surge of Covid-19 – there are some access changes to indoor meets in Northern VA especially access to Thomas Jefferson Middle School.
*Therefore, the meet on Jan. 15th is cancelled.
*The District has added two polar meets -Jan. 22nd (Wakefield HS) and Jan. 29th (Marshall HS)
o These meets will feature all of the teams from the District.
o We are hosting the meet on the 29th and will make it our Senior Night/Day
o We will also need parent volunteers to work the events like the David Cannon meet.
o I am not sure if we need food donations but concessions will be open.
o Sign ups for donations and volunteers will be posted this week.
o I will also post a new meet sign up for the 22nd, 29th, District champs
*A few athletes will be attending the VA Showcase on the 14th and 15th in VA Beach.
*The District Championship meet schedule for Jan. 20th & 21st is postpone due to PG Sportplex closing and it will be the weekend of Feb. 4th and 5th at TJMS or outdoors at W&L.
*The Regional Championship will be the next week of the 11th at Chantilly and if weather does not permit it will be the week of the 16th
*The State meet is still schedule for end of the month in VA Beach.

Spirit Pack
Anyone who had not picked up their spirit pack items can do at any practices this week. All coaches have access to get it for you.

Reminder. Mask on when you are in the building and if you cannot be 6 feet apart even outdoors for long time, please mask up. We are not expecting you to wear while running outdoors but with the cold weather, I find it helpful. It is possible we maybe have to wear it on the 22nd in Arlington, they rules are different that FCPS. If, you are not feeling good even if it is not Covid-19, please stay home, it protects others.


Top Marks for each event as of Dec. 11th
All Season Individual Performances as of Dec. 11th Meet (PDF)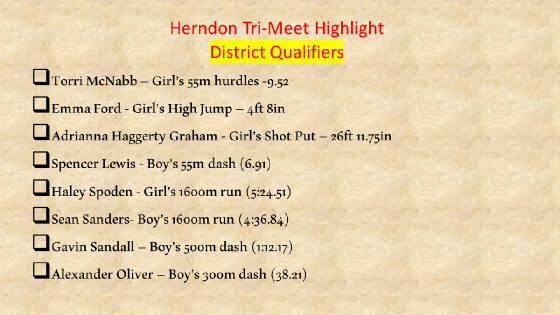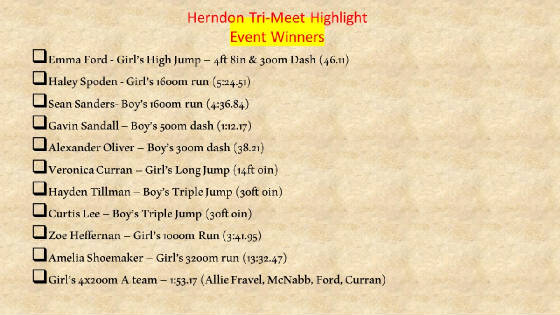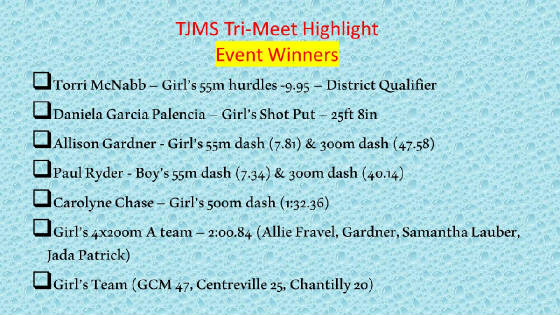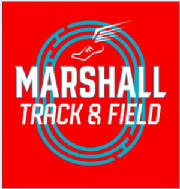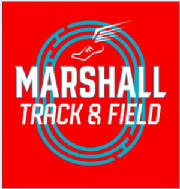 Boy's Team dominated from start to finish to win the 4x800m Relay Title - Northern Regional Championship
Junior Torri McNabb wins her heat Northern Regional 55m Hurdles and qualifies for the State Championship.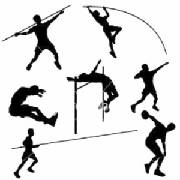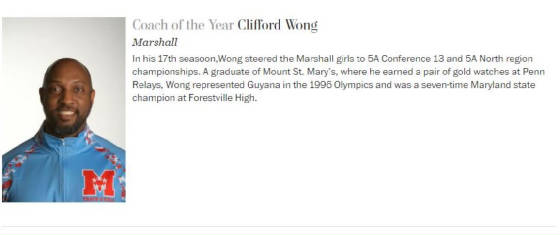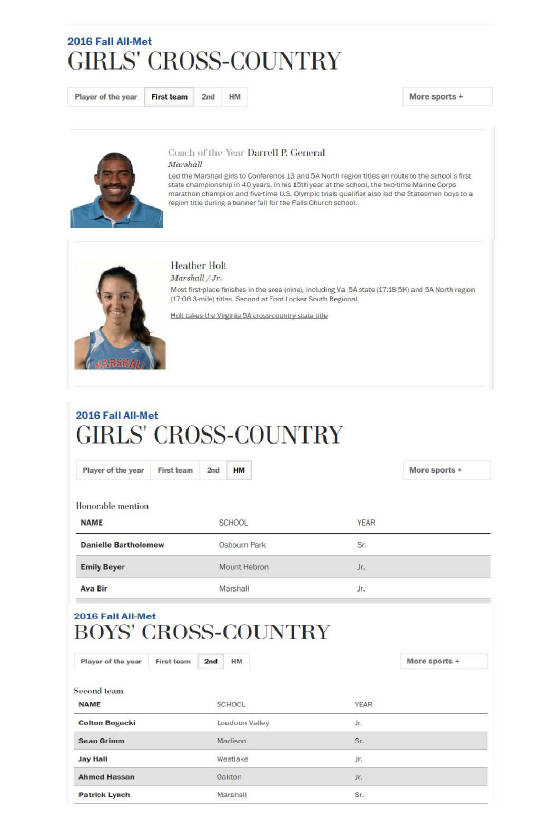 To view results and pictures and news from the last seasons please go to our Archives Page
LEAVE A LEGACY - my favorite part of video - get the message - Leave a legacy - it cannot be changed. Time can go by - others might come whose better than you but if you make history and leave it on the track - nothing will or can ever change the record for 2015 - 2016 Season.