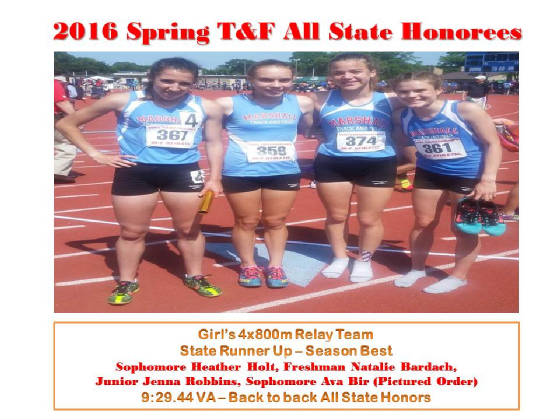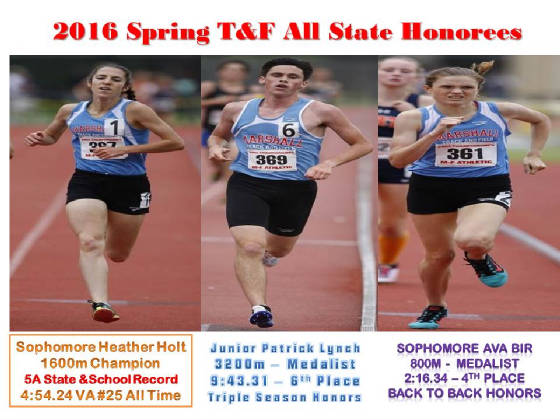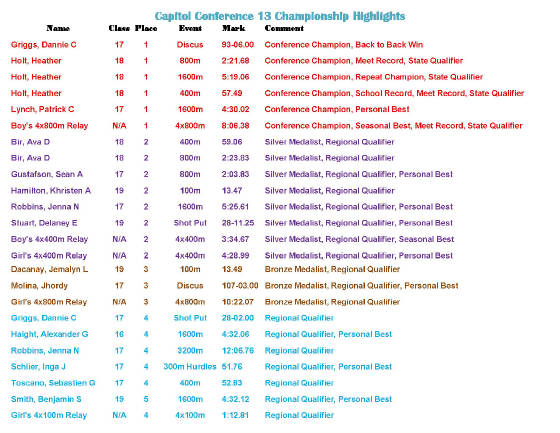 Conference 13 Championship - Relay Results

Event # 13 V Women 4x800m Relay

Natalie M. Bardach (19)

Kelly A. Batsford (17)

Layan Qasem (17)

Jenna N. Robbins (17)

10:22.07

3

6

*Regional Qualifier

Event # 14 V Men 4x800m Relay

Benjamin S. Smith (19)

Alexander G. Haight (16)

Sean A. Gustafson (17)

Patrick C. Lynch (17)

8:06.38

1

10

*Meet Record, State Qualifier, Champion and #2 All time in School History

Event # 21 V Women 4x100m Relay

Jemalyn L. Dacanay (19)

Khristen A. Hamilton (19)

Tomari C. Epps (19)

Grace E. Cusack (18)

1:12.81

4

4

*Regional Qualifier

Event # 22 V Men 4x100m Relay

Austin R. Gillmore (18)

Connor N. Quin (18)

Jiahao Luo (18)

Samuel P. Dunn (17)

47.22

5

1

Event # 33 V Women 4x400m Relay

Alyssa N. Maynard (19)

Kelly A. Batsford (17)

Tomari C. Epps (19)

Rachel L. Miller (18)

4:28.99

2

8

*Silver Medal and Regional Qualifier

Event # 34 V Men 4x400m Relay

Robert J. Leap (16)

Sean A. Gustafson (17)

Patrick C. Lynch (17)

Sebastien G. Toscano (17)

3:34.67

2

8

*Silver Medal, Regional Qualifier and Seasonal Best
Capitol Conference 13 Championship May 10th & 11th, 2016

Edison HS - Alexandria, VA

Individual Results

Mark

Round

Name

Class

Place

Points

Improvement

Comment

Event # 2 V Women High Jump

4-01.00

1.24m

F

Manley, Ash Lee T

16

5

1.5

0-01.00

Personal Best

4-01.00

1.24m

F

Crockett, Hamilton T

16

7

---

-0-01.00




Event # 3 V Men Long Jump

16-11.00

5.15m

F

Weske, Elijah R

17

20

---

0-00.25

Personal Best

Event # 4 V Women Long Jump

14-04.00

4.36m

F

Manley, Ash Lee T

16

9

---

0-06.50

Personal Best

13-09.25

4.19m

F

Orozco, Nina S

19

15

---

-2-02.00




Event # 6 V Women Triple Jump

29-04.25

8.94m

F

Manley, Ash Lee T

16

9

---

0-07.00

Personal Best

Event # 7 V Men Discus

107-03.00

32.69m

F

Molina, Jhordy

17

3

6

7-00.50

Bronze Medalist, Regional Qualifier, Personal Best

103-05.00

31.52m

F

Sandlin, Kyle T

16

6

1

2-09.50

Personal Best

102-08.00

31.29m

F

Zinchenko, Lev

17

7

---

7-11.00

Personal Best

Event # 8 V Women Discus

93-06.00

28.49m

F

Griggs, Dannie C

17

1

10

-8-11.00

Conference Champion, Back to Back Win

82-05.00

25.12m

F

Stenseth, Alexandra B

17

5

2

6-04.25

Personal Best

77-09.00

23.69m

F

Stuart, Delaney E

19

6

1

-0-01.00




75-01.00

22.88m

F

Dacanay, Jemalyn L

19

7

---

-9-03.00




Event # 9 V Men Shot Put

34-06.50

10.52m

F

Sandlin, Kyle T

16

5

2

0-03.00

Personal Best

34-01.75

10.40m

F

Cintorino, Lucas E

18

7

---

2-09.00

Personal Best

30-05.00

9.27m

F

Molina, Jhordy

17

14

---

-4-06.50




Event # 10 V Women Shot Put

28-11.25

8.82m

F

Stuart, Delaney E

19

2

8

1-06.50

Silver Medalist, Regional Qualifier, Personal Best

28-02.00

8.58m

F

Griggs, Dannie C

17

4

4

-3-05.75

Regional Qualifier

27-06.00

8.38m

F

Stenseth, Alexandra B

17

6

1

0-03.50

Personal Best

Event # 15 V Women 100m Hurdles

18.65




F

Schlier, Inga J

17

5

2

.84




18.73




F

Stegman, Molly M

17

6

1

.46































18.39




P

Schlier, Inga J

17

5

---

.58

Finals Qualifier

18.72




P

Stegman, Molly M

17

6

---

.45

Finals Qualifier

19.75




P

Tadlock, Sarah M

19

8

---

.72




Event # 16 V Men 110m Hurdles

21.48




P

Pascua, Ivan C

18

12

---

1.34




21.93




P

Sotelo, Alexander

18

13

---

.18




Event # 17 V Women 100m Dash

13.47




F

Hamilton, Khristen A

19

2

8

.03

Silver Medalist, Regional Qualifier

13.49




F

Dacanay, Jemalyn L

19

3

6

-.19

Bronze Medalist, Regional Qualifier




























13.27




P

Hamilton, Khristen A

19

4

---

-.17

Finals Qualifier, Personal Best

13.46




P

Dacanay, Jemalyn L

19

6

---

-.22

Finals Qualifier, Personal Best

14.26




P

Epps, Tomari C

19

11

---

.12




Event # 18 V Men 100m Dash

12.50




P

Kim, Brandon J

16

16

---

-.14

Personal Best

12.59




P

Dunn, Samuel P

17

19

---

-.42

Personal Best

12.93




P

Camillo, Khrystan A

16

21

---

-.09

Personal Best

Event # 19 V Women 1600m Run

5:19.06




F

Holt, Heather

18

1

10

18.17

Conference Champion, Repeat Champion
State Qualifier

5:25.61




F

Robbins, Jenna N

17

2

8

-2.55

Silver Medalist, Regional Qualifier, Personal Best

5:39.18




F

Holt, Ashley

18

5

2

24.89




5:40.63




F

Bardach, Natalie M

19

6

1

-.06

Personal Best

5:41.72




F

Qasem, Layan

17

9

---

-.77

Personal Best

Event # 20 V Men 1600m Run

4:30.02




F

Lynch, Patrick C

17

1

10

-4.72

Conference Champion, Personal Best

4:32.06




F

Haight, Alexander G

16

4

4

-3.23

Regional Qualifier, Personal Best

4:32.12




F

Smith, Benjamin S

19

5

2

-4.32

Regional Qualifier, Personal Best

Event # 23 V Women 400m Dash

57.49




F

Holt, Heather

18

1

10

-1.91

Conference Champion, School Record
Meet Record, State Qualifier

59.06




F

Bir, Ava D

18

2

8

.72

Silver Medalist, Regional Qualifier

1:02.13




F

Lee, Anabelle R

19

5

2

-.67































57.69




P

Holt, Heather

18

1

---

-1.71

Finals Qualifier, Personal Best, School Record

59.28




P

Bir, Ava D

18

2

---

.94

Finals Qualifier, Regional Qualifier

1:01.86




P

Lee, Anabelle R

19

6

---

-.94

Final Qualifier, Personal Best

Event # 24 V Men 400m Dash

52.83




F

Toscano, Sebastien G

17

4

4

.49

Regional Qualifier




























52.57




P

Toscano, Sebastien G

17

6

---

.23

Final Qualifier

55.01




P

Quin, Connor N

18

13

---

.87




55.46




P

Leap, Robert J

16

14

---

1.05




Event # 25 V Women 300m Hurdles

51.76




F

Schlier, Inga J

17

4

4

-1.16

Regional Qualifier, Personal Best




























52.50




P

Schlier, Inga J

17

4

---

-.42

Finals Qualifier, Personal Best

56.29




P

Manley, Ash Lee T

16

8

---

1.33




57.71




P

Tadlock, Sarah M

19

9

---

1.03




Event # 26 V Men 300m Hurdles

42.67




F

Weske, Elijah R

17

5

2

-1.97

Personal Best




























43.46




P

Weske, Elijah R

17

5

---

-1.18

Finals Qualifier, Personal Best

45.28




P

Gillmore, Austin R

18

10

---

-.46

Personal Best

50.84




P

Pascua, Ivan C

18

15

---

1.02




Event # 27 V Women 800m Run

2:21.68




F

Holt, Heather

18

1

10

6.90

Conference Champion, Meet Record
State Qualifier

2:23.83




F

Bir, Ava D

18

2

8

3.08

Silver Medalist, Regional Qualifier

2:35.14




F

Batsford, Kelly A

17

6

1

.55




2:42.73




F

Qasem, Layan

17

9

---

7.45




Event # 28 V Men 800m Run

2:03.83




F

Gustafson, Sean A

17

2

8

-2.39

Silver Medalist, Regional Qualifier
Personal Best

2:10.28




F

Haight, Alexander G

16

12

---

5.22




2:11.39




F

Griggs, Jonathan A

17

14

---

-.25

Personal Best

Event # 29 V Women 200m Dash

27.84




F

Lee, Anabelle R

19

5

2

-.11




28.20




F

Hamilton, Khristen A

19

6

1

-.26































27.55




P

Lee, Anabelle R

19

5

---

-.40

Finals Qualifier, Personal Best

27.81




P

Hamilton, Khristen A

19

6

---

-.65

Finals Qualifier, Personal Best

28.22




P

Dacanay, Jemalyn L

19

9

---

-.02

Personal Best

Event # 30 V Men 200m Dash

23.87




P

Toscano, Sebastien G

17

9

---

-.10

Personal Best

25.02




P

Luo, Jiahao

18

17

---

.27




27.89




P

Luketic, Peter J

17

20

---

2.15




Event # 31 V Women 3200m Run

12:06.76




F

Robbins, Jenna N

17

4

4

20.12

Regional Qualifier

12:19.68




F

Holt, Ashley

18

6

1

41.01




12:31.12




F

Bardach, Natalie M

19

7

---

15.44




12:57.77




F

Murtha, Logan L

17

12

---

27.87




Event # 32 V Men 3200m Run

10:20.13




F

McFaul, Justin C

16

9

---

14.41




10:26.67




F

Forney, David

18

11

---

10.26




10:46.29




F

Church, Oliver F

18

14

---

-7.62

Personal Best
Conference Championship Spring 2016 Team by Event
Conference Championship Spring 2016 Team by Name
2016 Spring Regular Season Performance list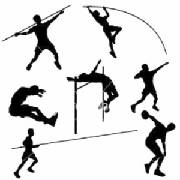 Nike Spring Invitational May 7th, 2016

South Lakes HS - Reston, VA

Individual Results

Mark

Name

Class

Place

Points

Improvement

Comment

Event # 7 V Men Discus

86-08.00

26.41m

Zinchenko, Lev

17

21

---

-8-01.00




82-01.00

25.01m

Sandlin, Kyle T

16

25

---

-18-06.50




72-04.00

22.04m

Santos, Fernando

18

29

---

0-11.50

Personal Best

Event # 8 V Women Discus

98-04.00

29.97m

Griggs, Dannie C

17

3

---

-4-01.00

Regional Qualifier

84-04.00

25.70m

Dacanay, Jemalyn L

19

14

---

1-11.00

Conference Qualifier, Personal Best

63-04.00

19.30m

Stuart, Delaney E

19

24

---

-14-06.00




Event # 9 V Men Shot Put

30-11.75

9.44m

Sandlin, Kyle T

16

23

---

-3-03.75




29-09.75

9.08m

Cintorino, Lucas E

18

25

---

-1-07.00




27-06.75

8.40m

Molina, Jhordy

17

27

---

-7-04.75




Event # 10 V Women Shot Put

25-11.75

7.91m

Griggs, Dannie C

17

14

---

-5-08.00




24-06.50

7.48m

Stuart, Delaney E

19

21

---

-2-10.25




22-01.25

6.73m

Dacanay, Jemalyn L

19

27

---

-1-00.75




Event # 15 V Women 100m Hurdles

18.59




Schlier, Inga J

17

12

---

.78

Conference Qualifier

18.66




Stegman, Molly M

17

14

---

.39




19.03




Tadlock, Sarah M

19

17

---

-.95

Personal Best

Event # 16 V Men 110m Hurdles

20.81




Pascua, Ivan C

18

19

---

.67




21.75




Sotelo, Alexander

18

21

---

-.43

Personal Best

Event # 17 V Women 100m Dash

13.64




Lee, Anabelle R

19

---

---

-.17

Conference Qualifier, Personal Best

13.68




Dacanay, Jemalyn L

19

---

---

-.06

Conference Qualifier, Personal Best

14.28




Epps, Tomari C

19

---

---

.14




15.23




Cusack, Grace E

18

25

---

.69




15.42




Stuart, Delaney E

19

26

---

-.22

Personal Best

15.42




Young, Katie J

19

26

---

-.02

Personal Best

Event # 18 V Men 100m Dash

13.02




Camillo, Khrystan A

16

32

---

-.01

Personal Best

13.19




Dunn, Samuel P

17

33

---

.18




13.45




Russell, Kyle W

19

---

---

.21




15.20




Aluru, Nikhil R

19

---

---

.16




Event # 19 V Women 1600m Run

5:00.89




Holt, Heather

18

1

---

-.85

School Record, State Qualifier, Event Winner, PR

5:28.16




Robbins, Jenna N

17

15

---

-1.70

Regional Qualifier, Personal Best

6:12.10




Schlechty, Anastasia G

18

37

---

4.36




Event # 20 V Men 1600m Run

4:40.07




Gustafson, Sean A

17

9

---

-5.97

Conference Qualifier, Personal Best

4:51.43




Forney, David

18

23

---

.69

Conference Qualifier

4:58.16




McLarty, Michael S

17

36

---

.42




5:04.41




Church, Oliver F

18

39

---

3.07




Event # 23 V Women 400m Dash

58.81




Bir, Ava D

18

4

---

.47

State Qualifier

1:02.80




Lee, Anabelle R

19

14

---

-.74

Conference Qualifier, Personal Best

1:08.92




Schmidt, Nicole C

18

29

---

-.52

Personal Best

Event # 24 V Men 400m Dash

53.58




Toscano, Sebastien G

17

15

---

1.24

Conference Qualifier

54.65




Leap, Robert J

16

18

---

.24




56.69




Quin, Connor N

18

27

---

2.55




Event # 25 V Women 300m Hurdles

53.02




Schlier, Inga J

17

16

---

.10

Conference Qualifier

57.06




Stegman, Molly M

17

30

---

-1.30

Personal Best

58.06




Tadlock, Sarah M

19

32

---

1.38




Event # 26 V Men 300m Hurdles

45.74




Gillmore, Austin R

18

15

---

-.70

Conference Qualifier, Personal Best

50.37




Pascua, Ivan C

18

28

---

.55




Event # 27 V Women 800m Run

2:33.91




Bardach, Natalie M

19

---

---

-2.13

Conference Qualifier, Personal Best

2:34.59




Batsford, Kelly A

17

23

---

-.99

Conference Qualifier, Personal Best

2:35.28




Qasem, Layan

17

26

---

-.95

Conference Qualifier, Personal Best

2:41.70




Murtha, Logan L

17

32

---

.46




2:52.81




Durr, Kayleigh L

19

---

---

-6.74

Personal Best

2:55.98




Sudarshan, Suchitra R

19

---

---

-8.96

Personal Best

3:08.17




Schlechty, Abigail R

19

---

---

-.48

Personal Best

Event # 28 V Men 800m Run

2:04.58




Smith, Benjamin S

19

---

---

-.64

Conference Qualifier, Personal Best

2:06.52




McFaul, Justin C

16

13

---

1.29

Conference Qualifier

2:13.67




Kennedy, Sanchir T

19

---

---

-2.87

Personal Best

2:13.70




Griggs, Jonathan A

17

29

---

2.06




2:21.52




Hassett, Samuel B

17

32

---

-1.32

Personal Best

2:28.16




Bir, Gabriel M

19

---

---

-6.88

Personal Best

Event # 29 V Women 200m Dash

28.63




Dacanay, Jemalyn L

19

22

---

.39




29.58




Epps, Tomari C

19

30

---

-.17

Personal Best

30.67




Cusack, Grace E

18

34

---

-.73

Personal Best

Event # 30 V Men 200m Dash

23.97




Toscano, Sebastien G

17

15

---

-.40

Conference Qualifier, Personal Best

26.63




Dunn, Samuel P

17

36

---

-.11

Personal Best

27.15




Luketic, Peter J

17

37

---

1.41




Event # 31 V Women 3200m Run

12:06.72




Holt, Ashley

18

16

---

28.05

Regional Qualifier

12:15.68




Bardach, Natalie M

19

20

---

---

Conference Qualifier, Personal Best

13:46.35




Kennedy, Tatiana A

18

35

---

-3.69




Event # 32 V Men 3200m Run

9:38.07




Lynch, Patrick C

17

3

---

-11.06

State Qualifier, Personal Best

9:57.85




Smith, Benjamin S

19

7

---

-24.99

Regional Qualifier, Personal Best

11:02.92




Buckley, Blain M

17

33

---

-5.41

Personal Best

Event # 35 F Women 100m Dash

13.64




Lee, Anabelle R

19

8

---

-.17

Personal Best

13.68




Dacanay, Jemalyn L

19

11

---

-.06

Personal Best

14.28




Epps, Tomari C

19

18

---

.14




Event # 36 F Men 100m Dash

13.45




Russell, Kyle W

19

27

---

.21




15.20




Aluru, Nikhil R

19

28

---

.16




Event # 37 F Women 800m Run

2:33.91




Bardach, Natalie M

19

7

---

-2.13

Personal Best

2:52.81




Durr, Kayleigh L

19

18

---

-6.74

Personal Best

2:55.98




Sudarshan, Suchitra R

19

23

---

-8.96

Personal Best

3:08.17




Schlechty, Abigail R

19

28

---

-.48

Personal Best

Event # 38 F Men 800m Run

2:04.58




Smith, Benjamin S

19

1

---

-.64

Event Winner, Complete Freshman Races Sweep

2:13.67




Kennedy, Sanchir T

19

7

---

-2.87

Personal Best

2:28.16




Bir, Gabriel M

19

25

---

-6.88

Personal Best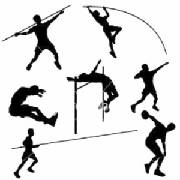 Wakefield vs Marshall & Edison Tri-Meet May 4th, 2016

Wakefield HS - Arlington, VA

Individual Results

Mark

Name

Class

Place

Points

Improvement

Comment

Event # 3 V Men Long Jump

12-03.50

3.74m

Castegnaro, Zack

19

---

---

---

Personal Best

Event # 5 V Men Triple Jump

34-11.00

10.64m

Harrison, Markel

17

4

1

---

Lettering Personal Best

Event # 7 V Men Discus

94-01.00

28.67m

Sandlin, Kyle T

16

---

---

-6-06.50

Lettering

91-07.00

27.91m

Zinchenko, Lev

17

---

---

-3-02.00

Lettering

73-00.50

22.26m

Cintorino, Lucas E

18

---

---

1-04.50

Personal Best

71-04.50

21.75m

Santos, Fernando

18

---

---

2-11.00

Personal Best

59-05.00

18.11m

Alzaabi, Naser A

17

---

---

14-05.00

Personal Best

52-07.00

16.02m

Cheng, John J

18

---

---

-1-06.50




Event # 8 V Women Discus

82-05.00

25.12m

Dacanay, Jemalyn L

19

---

---

14-08.00

Conference Qualifier, Personal Best

77-10.00

23.72m

Stuart, Delaney E

19

---

---

14-02.00

Conference Qualifier, Personal Best

75-02.00

22.91m

Stenseth, Alexandra B

17

---

---

-0-10.75

Conference Qualifier, Personal Best

54-01.00

16.48m

Young, Katie J

19

---

---

0-02.50

Personal Best

Event # 9 V Men Shot Put

34-11.50

10.65m

Molina, Jhordy

17

2

3

4-05.50

Lettering Personal Best

32-03.00

9.83m

Sandlin, Kyle T

16

4

1

-2-00.50

Lettering

31-04.75

9.56m

Cintorino, Lucas E

18

---

---

0-00.75

Personal Best

29-11.00

9.11m

Santos, Fernando

18

---

---

1-10.00

Personal Best

28-05.00

8.66m

Zinchenko, Lev

17

---

---

-3-04.50




21-04.75

6.52m

Cheng, John J

18

---

---

-1-01.75




20-08.50

6.31m

Alzaabi, Naser A

17

---

---

2-11.50

Personal Best

Event # 10 V Women Shot Put

27-04.75

8.35m

Stuart, Delaney E

19

2

3

2-08.75

Conference Qualifier, Personal Best

26-03.75

8.02m

Stenseth, Alexandra B

17

3

2

-0-10.75

Lettering

26-02.00

7.97m

Griggs, Dannie C

17

4

1

-5-05.75

Lettering

22-00.75

6.72m

Dacanay, Jemalyn L

19

---

---

-1-01.25




20-04.75

6.21m

Young, Katie J

19

---

---

-0-10.50




19-09.00

6.02m

Greene, Satori R

17

---

---

-1-02.50




Event # 15 V Women 100m Hurdles

18.30




Schlier, Inga J

17

1

5

.49

Event Winner, Conference Qualifier

20.27




Tadlock, Sarah M

19

3

2

.29

Lettering

20.73




Quijano, Stephanie M

17

4

1

-.43

Lettering Personal Best

20.91




Lane, Taylor D

16

---

---

2.07




21.32




Manley, Ash Lee T

16

---

---

1.99




21.32




Patterson, Emma

17

---

---

1.18




21.41




Lemma, Elnatan M

17

---

---

.85




Event # 16 V Men 110m Hurdles

19.65




Kim, Ahreum M

17

3

2

.47

Lettering

20.50




Pascua, Ivan C

18

4

1

.36

Lettering

22.18




Sotelo, Alexander

18

---

---

---

Personal Best

Event # 17 V Women 100m Dash

13.94




Hamilton, Khristen A

19

4

1

.50

Lettering

14.50




Epps, Tomari C

19

---

---

.36

Lettering

14.78




Griggs, Dannie C

17

---

---

.24

Lettering

14.88




Maynard, Alyssa N

19

---

---

-.16

Lettering Personal Best

15.19




Cusack, Grace E

18

---

---

.65

Lettering

15.53




Young, Katie J

19

---

---

.09




15.64




Stuart, Delaney E

19

---

---

.00

Personal Best

15.66




Stenseth, Alexandra B

17

---

---

.42




15.67




Lane, Taylor D

16

---

---

1.53




16.04




Herrera, Keiry D

18

---

---

.00

Personal Best

16.34




Greene, Satori R

17

---

---

-.48

Personal Best

16.43




Henriquez, Brenda G

18

---

---

.39




16.65




Augus, Marissa D

19

---

---

-.11

Personal Best

16.90




Trejo Hernandez, Itzel

18

---

---

.06




17.15




Luta, Ana C

18

---

---

-.09

Personal Best

17.36




Shah, Parita D

19

---

---

-.27

Personal Best

17.51




Mojarad, Tina

18

---

---

-.13

Personal Best

17.51




Mourad, Eliana M

16

---

---

-.72

Personal Best

17.71




Schmitz, Alexandra

18

---

---

.37




Event # 18 V Men 100m Dash

12.15




Harrison, Markel

17

4

1

.18

Lettering

12.18




Toscano, Sebastien G

17

---

---

.54

Lettering

12.83




Kim, Brandon J

16

---

---

.19

Lettering

12.99




Sandlin, Kyle T

16

---

---

.15




13.02




Pascua, Ivan C

18

---

---

-.62

Personal Best

13.05




Camillo, Khrystan A

16

---

---

.02




13.45




Kim, James Y

18

---

---

.11




13.70




Russell, Kyle W

19

---

---

.46




13.87




Starke, Gianmarco

18

---

---

.43




14.03




Ferramondo, Matteo

18

---

---

.19




14.06




Sotelo, Alexander

18

---

---

-.18

Personal Best

14.14




Luketic, Peter J

17

---

---

.60




14.38




Usowski, Owen W

19

---

---

.64




14.47




Dhanireddy, Chitanya L

17

---

---

1.03




14.73




Nair, Arjun B

19

---

---

1.59




15.31




Castegnaro, Zack

19

---

---

-.03

Personal Best

15.57




Aluru, Nikhil R

19

---

---

.53




15.99




Cheng, John J

18

---

---

---

Personal Best

15.99




Zinchenko, Lev

17

---

---

---

Personal Best

16.14




Santos, Fernando

18

---

---

---

Personal Best

Event # 19 V Women 1600m Run

5:40.69




Bardach, Natalie M

19

3

2

-2.66

Conference Qualifier, Personal Best

5:52.35




Murtha, Logan L

17

4

1

3.72

Lettering

6:07.02




James, Jade

16

---

---

21.08

Lettering

6:10.74




Kennedy, Tatiana A

18

---

---

4.10

Lettering

6:11.84




Schlechty, Anastasia G

18

---

---

4.10

Lettering

6:29.63




Sudarshan, Suchitra R

19

---

---

-2.19

Personal Best

6:35.98




Durr, Kayleigh L

19

---

---

-2.50

Personal Best

6:45.00




Schlechty, Abigail R

19

---

---

4.72




6:49.67




Sargsyan, Mariam

16

---

---

44.36




Event # 20 V Men 1600m Run

4:57.74




McLarty, Michael S

17

4

1

-4.09

Lettering Personal Best

4:58.06




Griggs, Jonathan A

17

---

---

-6.18

Lettering Personal Best

5:18.52




Buckley, Blain M

17

---

---

.28




5:21.19




Pappala, Pranav A

18

---

---

-7.42

Personal Best

5:22.41




Randazzo, David

17

---

---

-3.63

Personal Best

5:26.29




Hassett, Samuel B

17

---

---

26.32




5:30.25




Epstein, Ethan

17

---

---

27.38




5:59.07




Miller, Brian T

18

---

---

-1.72

Personal Best

5:59.62




Buckley, Cole P

19

---

---

-4.62

Personal Best

6:16.60




Valases, George E

19

---

---

2.56




6:23.08




McCrary, Luke R

18

---

---

4.73




6:30.21




Roberts, Theodore V

17

---

---

17.47




6:33.95




Fleury, Timothy L

18

---

---

14.81




Event # 23 V Women 400m Dash

1:05.55




Maynard, Alyssa N

19

2

3

1.91

Lettering

1:06.46




Batsford, Kelly A

17

3

2

-1.14

Lettering Personal Best

1:08.94




Dacanay, Jemalyn L

19

4

1

---

Personal Best

1:12.25




Miller, Rachel L

18

---

---

3.11




1:17.88




Herrera, Keiry D

18

---

---

---

Personal Best

1:18.82




Young, Katie J

19

---

---

---

Personal Best

1:19.26




Wheeler-Lafuente, Ariana J

16

---

---

9.86




1:21.39




Henriquez, Brenda G

18

---

---

---

Personal Best

1:21.40




Trejo Hernandez, Itzel

18

---

---

---

Personal Best

1:21.92




Augus, Marissa D

19

---

---

---

Personal Best

1:23.80




Schmitz, Alexandra

18

---

---

---

Personal Best

1:25.36




Stuart, Delaney E

19

---

---

---

Personal Best

1:26.53




Luta, Ana C

18

---

---

---

Personal Best

1:27.79




Mojarad, Tina

18

---

---

---

Personal Best

1:27.79




Mourad, Eliana M

16

---

---

---

Personal Best

1:28.72




Shah, Parita D

19

---

---

---

Personal Best

Event # 24 V Men 400m Dash

57.73




Luo, Jiahao

18

---

---

.89

Lettering Personal Best

1:02.81




Ferramondo, Matteo

18

---

---

1.17




1:06.78




Baker, Thomas L

18

---

---

-2.36

Personal Best

1:08.36




Dhanireddy, Chitanya L

17

---

---

6.12




1:10.82




Barna, Alexander J

19

---

---

2.78




Event # 25 V Women 300m Hurdles

53.97




Schlier, Inga J

17

1

5

1.05

Event Winner

56.53




Manley, Ash Lee T

16

2

3

1.57

Lettering

56.68




Tadlock, Sarah M

19

3

2

-.16

Lettering Personal Best

1:00.07




Quijano, Stephanie M

17

---

---

.61




1:01.08




Lemma, Elnatan M

17

---

---

-1.56

Personal Best

1:02.82




Patterson, Emma

17

---

---

2.58




1:04.86




Lane, Taylor D

16

---

---

8.98




Event # 26 V Men 300m Hurdles

47.43




Gillmore, Austin R

18

2

3

.99

Lettering

49.82




Pascua, Ivan C

18

---

---

-1.50

Personal Best

55.40




Usowski, Owen W

19

---

---

-.04

Personal Best

Event # 27 V Women 800m Run

2:32.88




Holt, Ashley

18

1

5

8.39

Conference Qualifier

2:36.23




Qasem, Layan

17

3

2

-.25

Lettering Personal Best

2:41.95




Schmidt, Nicole C

18

---

---

-6.04

Lettering Personal Best

2:59.55




Durr, Kayleigh L

19

---

---

-6.59

Personal Best

3:13.58




Schlechty, Abigail R

19

---

---

4.93




Event # 28 V Men 800m Run

2:17.02




Kennedy, Sanchir T

19

4

1

.48

Lettering

2:23.36




McLarty, Michael S

17

---

---

-1.18

Personal Best

2:31.27




Buckley, Blain M

17

---

---

-4.87

Personal Best

2:32.42




Pappala, Pranav A

18

---

---

-.62

Personal Best

2:35.04




Bir, Gabriel M

19

---

---

---

Personal Best

2:37.44




Randazzo, David

17

---

---

2.00




2:42.94




Miller, Brian T

18

---

---

1.13




2:48.35




Barna, Alexander J

19

---

---

-.59

Personal Best

2:57.76




Buckley, Cole P

19

---

---

8.32




2:58.63




Valases, George E

19

---

---

10.39




3:00.92




McCrary, Luke R

18

---

---

12.39




3:04.33




Fleury, Timothy L

18

---

---

1.89




3:16.49




Roberts, Theodore V

17

---

---

16.95




Event # 29 V Women 200m Dash

28.62




Hamilton, Khristen A

19

3

2

.16

Lettering

29.75




Epps, Tomari C

19

---

---

-.48

Lettering Personal Best

29.94




Maynard, Alyssa N

19

---

---

-.60

Lettering Personal Best

30.08




Miller, Rachel L

18

---

---

1.24

Lettering

31.68




Cusack, Grace E

18

---

---

.28




32.65




Stenseth, Alexandra B

17

---

---

.91




33.22




Young, Katie J

19

---

---

.68




34.23




Stuart, Delaney E

19

---

---

.49




34.40




Herrera, Keiry D

18

---

---

.36




35.21




Henriquez, Brenda G

18

---

---

.67




36.09




Trejo Hernandez, Itzel

18

---

---

-.45

Personal Best

36.30




Augus, Marissa D

19

---

---

.26




37.42




Schmitz, Alexandra

18

---

---

.56




38.36




Shah, Parita D

19

---

---

1.29




38.69




Mojarad, Tina

18

---

---

1.05




38.69




Mourad, Eliana M

16

---

---

-.03

Personal Best

Event # 30 V Men 200m Dash

24.37




Toscano, Sebastien G

17

---

---

-.17

Lettering Personal Best

24.63




Harrison, Markel

17

---

---

-.03

Lettering Personal Best

25.33




Luo, Jiahao

18

---

---

.58

Lettering

25.65




Gillmore, Austin R

18

---

---

.21




26.88




Kim, Brandon J

16

---

---

.04




27.38




Camillo, Khrystan A

16

---

---

.14




28.20




Ferramondo, Matteo

18

---

---

-.27

Personal Best

28.48




Kim, James Y

18

---

---

.14




28.66




Sotelo, Alexander

18

---

---

.02




28.68




Luketic, Peter J

17

---

---

2.94




28.99




Russell, Kyle W

19

---

---

1.01




29.11




Dhanireddy, Chitanya L

17

---

---

1.37




30.28




Nair, Arjun B

19

---

---

-.56

Personal Best

33.03




Castegnaro, Zack

19

---

---

-.01

Personal Best

34.22




Aluru, Nikhil R

19

---

---

3.38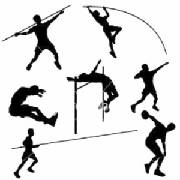 Lettering Standards Achieved as of 05/02/16
Summary & Highlights
*Thank you to the Andy Holt, Dianne & Mark Robbins and Coach General for accompanying the team to the Penn Relays.
*Congrats to Sophomore Heather Holt on breaking and setting another school record in the 3200m run - what a race - it came down to the photo finish and the give everything she had - probably a candidate for Dive of the Week.
*Boy's 4x800m Relay team (Freshman Benjamin Smith, Senior Alexander Haight, Junior Sean Gustafson, Junior Patrick Lynch) was nothing short of amazing - they ran one of the best race ever in school history to take the #5 All Time Slot. All the times ahead of them were achieved at championship (8:04.91 - State Champs, 8:07.05 - Region Champs, 8:07.45 - District Champs, 8:07.71 - Conference Champs). One common denominator is each team included a Haight. Senior Alexander Haight was a member of 3 of 5 fastest 4x800m relay teams in history - he was only out done by his brother MacKenzie who was a member of 4 of 5. Alex still have two more meets.
*Super Freshman Benjamin Smith came back a few hours later and collected another big win as he won the 1600m run. This was Smith second win of the season at the two premier Northern VA meet that has been a judge and marker to predicting the next best and upcoming distance runners. Some previous winners includes Saurav Velleleth (TJ - 2014), Alexander Haight (2013 - Cassel's & NoVA Invitational Winner), Alex Corbett (LB - 2011), Sean McGorty (Chan - 2010). His next task is to sweep the freshman series at Nike Freshman 800m run this coming weekend - won by GCM Aiden O'Leary in 2014 - defeating Saurav and missed by Alexander Haight in 2013 (placed 3rd).
*Sophomore Ava Bir continue her wonderful season dipping under 59 second for the 5th time this season. Just missed qualifying for the state championship by 0.08 second. She won her heat but was edged out by the slow section. In just her 2nd season Bir is half away to break to becoming the athlete in school history with the most sub 60 in the 400m dash. Hall of Famer Jacqueline Hargrove has the school record and a total of 20 sub 60s. It only a matter of time before those records will be taken down.
*Junior Dannie Griggs became 1 of 6 athlete in the last 17 years to throw the discus over 100 feet. Right now she stands at #3 behind the great Carissa Culbreath - (117ft 9in - 2002) and Meara Goss (103ft 9in - 2010), Griggs (102ft 5in) and ahead of Amanda Kousen (101ft 9in - 2013), Meredith Harrington (101ft 3in - 2001) and Jalen Boone (100ft 4in - 2003).
11th Annual CASSEL'S XBC TRACK EXPERIENCE Apr. 30th, 2016

Chantillly HS - Chantilly, VA

Individual Results

Mark

Name

Class

Place

Points

Improvement

Comment

Event # 1 V Women Shot Put

27-10.50

8.49m

Griggs, Dannie C

17

13

---

-3-09.25

Conference Quaifier

25-09.75

7.86m

Stenseth, Alexandra B

17

19

---

-1-04.75




Event # 3 V Women Discus

101-02.00

30.83m

Griggs, Dannie C

17

5

3

-1-03.00

Regional Qualifer

71-05.00

21.76m

Stenseth, Alexandra B

17

25

---

-4-07.75




Event # 5 V Women Long Jump

13-11.00

4.24m

Orozco, Nina S

19

21

---

-2-00.25




13-06.25

4.12m

Manley, Ash Lee T

16

26

---

-0-03.25




Event # 35 V Women Triple Jump

28-09.25

8.76m

Manley, Ash Lee T

16

23

---

0-00.75

Personal Best

Event # 11 V Women 3200m Run

10:43.14




Holt, Heather

18

2

8

-16.19

School Record, State Qualifier, Runner Up, PR

11:50.25




Robbins, Jenna N

17

9

---

3.61

Regional Qualifer

Event # 12 V Men 3200m Run

10:16.41




Forney, David

18

18

---

-8.12

Conference Qualifier, Personal Best

10:53.91




Church, Oliver F

18

40

---

-1.34

Personal Best

Event # 13 V Women 100m Hurdles

18.27




Stegman, Molly M

17

14

---

-.17

Conference Qualifier, Personal Best

18.82




Schlier, Inga J

17

18

---

1.01




Event # 15 V Women 400m Dash

58.96




Bir, Ava D

18

2

8

.62

Regional Qualifer

1:06.27




Holt, Ashley

18

24

---

1.38




Event # 17 V Women 1600m Run

5:43.35




Bardach, Natalie M

19

---

---

-11.09

Personal Best

5:52.51




Murtha, Logan L

17

26

---

3.88




6:13.72




Kennedy, Tatiana A

18

32

---

7.08




6:31.82




Sudarshan, Suchitra R

19

---

---

-11.45

Personal Best

6:38.48




Durr, Kayleigh L

19

---

---

-2.82

Personal Best

Event # 18 V Men 1600m Run

4:40.22




Smith, Benjamin S

19

---

---

3.78

Conference Quaifier

4:44.05




McFaul, Justin C

16

21

---

1.61

Conference Quaifier

5:01.83




McLarty, Michael S

17

44

---

-1.95

Personal Best

5:13.21




Kennedy, Sanchir T

19

---

---

-6.77

Personal Best

Event # 21 V Women 100m Dash

13.85




Orozco, Nina S

19

25

---

.05




14.38




Epps, Tomari C

19

36

---

.24




Event # 22 V Men 100m Dash

13.01




Dunn, Samuel P

17

47

---

-.66

Personal Best

13.03




Camillo, Khrystan A

16

48

---

-.11

Personal Best

Event # 25 V Women 300m Hurdles

52.92




Schlier, Inga J

17

16

---

-.51

Conference Qualifier, Personal Best

56.94




Tadlock, Sarah M

19

28

---

.10




Event # 26 V Men 300m Hurdles

48.48




Gillmore, Austin R

18

33

---

2.04




Event # 27 V Women 800m Run

2:37.03




Qasem, Layan

17

20

---

.55




2:56.52




Schlechty, Anastasia G

18

35

---

-2.91

Personal Best

Event # 28 V Men 800m Run

2:06.22




Gustafson, Sean A

17

16

---

-13.42

Conference Qualifier, Personal Best

2:07.64




Lynch, Patrick C

17

18

---

6.83

Conference Quaifier

2:11.62




Leap, Robert J

16

29

---

.27




Event # 29 V Women 200m Dash

27.95




Lee, Anabelle R

19

17

---

-.55

Conference Qualifier, Personal Best

38.48




Orozco, Nina S

19

45

---

9.23




Event # 30 V Men 200m Dash

24.54




Toscano, Sebastien G

17

23

---

-.20

Personal Best

25.31




Luo, Jiahao

18

33

---

.56




Event # 31 F Women 1600m Run

5:43.35




Bardach, Natalie M

19

7

2

-11.09

Personal Best

6:31.82




Sudarshan, Suchitra R

19

---

---

-11.45

Personal Best

6:38.48




Durr, Kayleigh L

19

---

---

-2.82

Personal Best

Event # 32 F Men 1600m Run

4:40.22




Smith, Benjamin S

19

1

---

3.78

Event Winner

5:13.21




Kennedy, Sanchir T

19

---

---

-6.77

Personal Best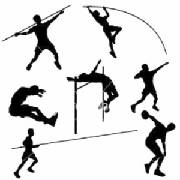 April 27th Meet Summary - Event Winners: 8, Conference Qualifiers: 11, Letter Earned: 55, Personal Best: 106
Falls Church vs Marshall & Jeffeson Tri-Meet Apr. 27th, 2016

Falls Church HS - Falls Church, VA

Individual Results

Mark

Name

Class

Place

Points

Improvement

Comment

Event # 2 V Women High Jump

4-00.00

1.21m

Crockett, Hamilton T

16

2

3

-0-02.00

Lettering

4-00.00

1.21m

Manley, Ash Lee T

16

2

3

---

Lettering, Personal Best

4-00.00

1.21m

Tadlock, Sarah M

19

2

3

0-00.00

Lettering, Personal Best

Event # 3 V Men Long Jump

16-07.50

5.06m

Harrison, Markel

17

2

4

-1-04.25

Lettering

15-04.50

4.68m

Weske, Elijah R

17

5

1

-1-06.25

Lettering

14-11.00

4.54m

Cessna, Alexander E

17

---

---

-1-00.50




14-08.50

4.48m

Parks, Kelcey E

18

---

---

0-04.25

Personal Best

Event # 5 V Men Triple Jump

35-02.00

10.71m

Parks, Kelcey E

18

3

3

1-11.00

Lettering, Personal Best

Event # 7 V Men Discus

98-04.00

29.97m

Sandlin, Kyle T

16

2

4

-2-03.50

Lettering

94-09.00

28.88m

Zinchenko, Lev

17

3

3

12-05.00

Lettering, Personal Best

90-10.00

27.68m

Molina, Jhordy

17

2

2

-9-04.50

Lettering

66-07.00

20.29m

Randazzo, David

17

---

---

5-11.00

Personal Best

64-09.00

19.73m

Cintorino, Lucas E

18

---

---

-6-11.00




63-11.00

19.48m

Santos, Fernando

18

---

---

-4-06.50




Event # 8 V Women Discus

102-05.00

31.21m

Griggs, Dannie C

17

1

6

3-01.25

Event Winner, Conference Qualifier, Personal Best

67-09.00

20.65m

Dacanay, Jemalyn L

19

4

2

1-04.00

Lettering, Personal Best

66-10.00

20.37m

Stenseth, Alexandra B

17

---

---

-9-02.75

Lettering

63-08.00

19.40m

Stuart, Delaney E

19

---

---

21-03.00

Personal Best

52-11.00

16.12m

Young, Katie J

19

---

---

-0-11.50




Event # 9 V Men Shot Put

30-06.00